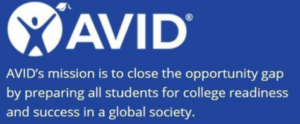 The purpose of this AVID Website is…
To provide equity and access to rigorous curriculum by supporting teachers across all content areas with high leverage instructional AVID strategies.
To provide AVID/AVID Excel teachers with instructional resources & support needed, in order to purposefully build a college/career readiness culture of learning.
To provide AVID Coordinators with support resources needed, in order to implement a thriving college preparatory AVID Program, and school culture.
The AVID Elective Class
The AVID Elective is the core of AVID Secondary. It targets students in the academic middle with the desire to go to college and the willingness to work hard. Often, AVID Elective students will be the first in their families to attend college, and come from groups traditionally disadvantaged or underrepresented in higher education. These are students capable of completing rigorous curriculum with the support of the AVID Elective class. 
The AVID Elective class places these students on the college track, requiring students to enroll in the most rigorous courses that are appropriate for them, such as Honors or Advanced Placement®. To support them in the rigorous coursework, AVID students learn organizational and study skills, develop critical thinking, learn to ask probing questions, receive academic help from peers and college tutors, and participate in enrichment and motivational activities to make their college dreams reality.
AVID Curriculum
The AVID curriculum, based on rigorous standards, was developed by middle and high school teachers in collaboration with college professors. It is based on best teaching practices in writing, inquiry, collaboration, organization, and reading, and it is supported by state and national content standards. AVID curriculum is used in the AVID Elective and cross-content-area classes in AVID schools to guide teachers and students, while planning strategies for success, by focusing on time management and study skills.

Virginia Shaw
AVID Program Manager
Email: Virginia.Shaw@sweetwaterschools.org
---